I confessed to myself about I wasn't fan of Fon and Belle since Hormones Season 1 was shown. From Hormones Season 1-3, I paid attention to characters who had personality as same as me that was so cheeky and rebel. Yeah, I was mentioning to the bad boy celebrity of Nadao Bangkok College named "Win" and the rebel girl who fulfilled with the freedom and liberty named "Jane". Yeah, actually, my personality was so contrast from the society. I loved to listen indie music and used with high performance earphone. My life with music was so addictive and musics pulled me to the world of surrealistic.
Finally, someone who was Fon & Belle fans requested me via comment box on my blog. I saw the notifications and I opened it to reply.
"Can you make about Dao & Koi?" That user asked me.
Dao and Koi's story was so tough to do because I skipped watching Hormones when coming to Dao and Koi's scene due to that wasn't my style. But, I did it… because of fans's' request although I didn't know who they were.
3 days later. Finally, I wrote Dao & Koi's article successfully. After that, they retweeted in Twitter continuously. No one said about my tweets. Only clicking retweet button was so deserved to do. It was so easy.
And I still updated Dao & Koi's story (and another character, but I gave "Jane" as first). Looked like Dao & Koi's tweet was so viral more than everyone. They shared extremely until someone knew I was the translator of Dao & Koi's contents. One facts I knew was Fon & Belle's fans didn't know I was male.
Huh? Male interested girl ❤ girl contents. Oh my god! That is so unbelievable!
Remember about I interested Jane and Win first and my contents were grown with Jane and Win at first. Until Hormones 3 was ended, some fans requested me to translate Pinky Promise. So I did it and everyone knew I was the Fon & Belle's translator well.
Sometimes I read tweets about Fon and Belle and that was so repeated due to many Fon & Belle retweeted with same tweet. Until I felt…
Hey!!! I already know this.
Another my works after Pinky promise translation, such as Fon & Belle at Gangzhou, High School Reunion (Fon's episode), Fon & Belle at KAZZ Magazine event was came from my heart. I want all Fon & Belle's fans knew what Fon and Belle felt in any situations. Fon and Belle's fans were friendly, but Thai fans didn't interest me as same as international fans much. Don't worry.
One thing that Fon and Belle's fans thought was they loved Fon and Belle a lot. Their love was greater than another superstar I ever knew. That was so fantastic and unbelievable, but finally this was believable. So why fanclubs loved Fon and Belle a lot? Let's check it out.
Number 1 Fon and Belle have same chemistry
Love is good. Love is immortal. Love is pure energy of the hope. Love make everyone feel the peace. Love is everything in the life.
And now love isn't restricted only man ❤ woman or woman ❤ man. Man ❤ man or woman ❤ woman in this time are decent. And this love perform as Dao & Koi's story very well.  This thing is the reason why Fon and Belle have same chemistry.
Look at Hormones the Series at Dao & Koi's session. Fon and Belle performed very well as same as real couple I have ever seen. Now in Thailand, there are many lesbian couple that may show in social networks so homosexuality in Thailand is near to be usual. I ever observed my friends who were lesbian at the university. I want to say about… My friends' moments were same as Dao & Koi's story.
Because their parents didn't agree their daughter who love with same sex. This shouldn't be happened. But my friends fought against the contrast from parents and friends because their friends didn't agree about loving with same sex too. It couldn't register as the marriage. Yeah, in Thailand, there doesn't have law about marriage with same sex.
Someone think if they have a child as adopted child, that child will be insulted he (or she) won't have father.
But please respect about power of love. Come back to Dao & Koi's story that Fon & Belle performed. Their moments and actions were suitable and continuous smoothly. Although Fon & Belle don't have experiences for acting much as same as another actors or actresses in Hormones, but finally, Fon & Belle performed about chemistry could raise the quality of acting to be the best.
If you don't know how about chemistry from Fon & Belle, please watch Hormones since season 1-3 at Dao&Koi sessions.
But look like Fon & Belle's chemistry are compatible in real world. Many events that Fon & Belle show are compatible too as same as real couple. Actually, Fon & Belle in real world are close friend together although Fon's age is older than Belle. You can see cute moments that performed naturally from Fon & Belle unexpectedly.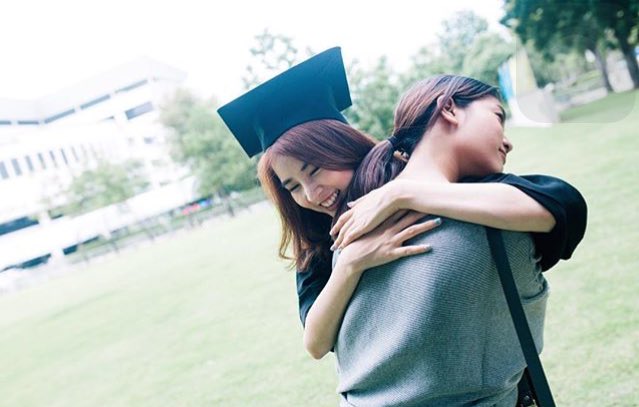 Number 2 Fon & Belle aren't arrogant
When you love some superstar, you want to meet and greet closely. This is the most memorable moment that everyone want. Don't stay with superstar with long time, you can feel happy.
Back to the past. When you want to see the superstar, you must go to the concert or interview day. Sometimes you don't have more times to meet your superstar, so you watch TV and see superstars who are talking or dancing and you feel in love with them. Only way to talk with your superstar is coming meet & greet event that you must pay your money more than normal ticket price.
Now connective technology is so beyond. You can talk with your superstar by create tweet and mention to your superstar's account. I don't know is this usable only Thai superstar? Because Thai superstars have owned social networks accounts that feel free to post any contents, but some superstars have managers who filter, post or comment in the name of superstar. Although some superstars call managers to greet fans, but fans feel they are near superstar more than in the past.
Look like Fon & Belle's managers or staffs aren't strict to fans a lot. So you feel free to take selfie with Fon & Belle when Fon & Belle are in some events (if they allow fans). You can say to Fon and Belle friendly (But only Thai or English language.) No bouncers or bodyguards who try to bounce you as same as another superstars. I think many Fon & Belle's fans are polite so bouncers aren't strict much.
Number 3 Fon & Belle have feedback to their fans
Luckily, now we are on the age of 4G. You can send your feeling or your sentence to say with Fon & Belle via tweets that mention to Fon & Belle. (I'm not sure about you can send messages via direct message in Twitter). Then they will answer back but have long time due to Fon & Belle answer themselves, not need any Twitter managers.
When you send gifts or flowers to Fon, Fon will show your gift and tweet "OMG! Thank you very much! From my fans." (Captions will be different, but similar as this.) Actually, Fon thinks this is so surprised. Her fans are a lot more than she thinks. So sometimes, Fon and Belle interact to their fans by playing quiz games or showing cute moment together. Everything Fon and Belle make because of their fans.
(I can't find any photos that Fon said thanks to her fans when her fans sent some gifts to her. Sorry.)
Number 4 Fon and Belle are the true role model
What is the role model? Role model is someone who have good attitude, smart thinking, perfectible working and have high reputation that you can copy their lifestyle to be the best. Role model is livable inspiration that you can copy their attitude without investing with expensive budgets to be the best person.
Fon & Belle at KAZZ Magazine's CSR. (Photo by @NoonSirikul)
In Thailand, being famous is easier than being role model. For girl, you can be famous in social network easily by dressing sexy cloth or doing surgery and take selfies to anywhere for getting likes from another users. That's so pity when they called themselves as "Net Idol". Now net idol in Thailand can get profit more than salaryman by being presenter of skincare and more opportunities to get money.
But being role model is harder and getting fans more than being only famous person. Fans' community is very strong and support together extremely. In Thailand, being real role model is being actor (or actress) and your GPA isn't dropped. In Korea, some superstars decide to choose between working job or learning. They choose only one, not working and learning in same time. But for Thai, society disagrees superstars who work, but drop learning.
Not only Fon who graduated with nice GPA although she has worked as actress or special guests. There are many celebrities in Thailand that work as actor (or actress, singer) and don't forget to learn and will graduate with nice GPA.
Reason of achievement is "Responsibility" Fon & Belle have this a lot.
Number 5 Fon and Belle's charm is so natural
I want to say everyone have natural charm. Only smile can show your charm without doing surgery. Not only smile, Fon and Belle respond to every people who interact her with happy face. They say hi to everyone and you know immediately.
Sometimes Fon and Belle don't have confidence a lot, so sometimes they were shy to do any mistakes. That is cute moment that appeared surprisingly. After they feel shy, they laughed immediately, then fans follow to laugh.
Fon & Belle know yourself what is their charm. For Fon, she has cute voice, small body as same as young girl. For Belle, she is so gorgeous and have maturity. When they know themselves, they have their real personalities that come from their mind without faking anything.
Another facts from Fon & Belle's fans
I want to say about Fon & Belle's fans are so friendly. They are patient to wait my translations although I translate very slow in sometimes due to I am busy, but they can wait my translation and they never hurry to me. When I tweet about my new translations, many Fon & Belle fans on Twitter retweet my post continuously although #sananthachat or #kemisarabelle aren't popular in Top tweets. Thank you to @mystar_box who retweet my tweets about Fon & Belle and many Fon & Belle fans users on Twitter retweet next.
But… I ever chatted with Chinese fans. She said about her friends who is Fon's fan is really crushed fan due to she rented some residence in Thailand for coming Fon's commencement day. That is so crazy, but she did because of her love. Please respect her.